"A woman has strengths that amaze me, she can handle trouble and carry heavy burdens, she holds happiness, love and opinions, she smiles when she feels like screaming, she sings when she feels like crying, cries when she's happy, and laughs when she's afraid, her love is unconditional, there's only one thing wrong with her and that is that sometimes she forgets what she is worth".
-      Anonymous
A woman! What an amazing observation?
TIPS
1. Water:  Drink at least eight glasses of water. This will help in reducing acne and pimple. This will also help in hydrating your skin nicely. Drink
water on empty stomach when you get up in the morning. Drink whenever you feel like drinking water and do not postpone the thirst quenching exercise.
2. Take care of your Vitamins and Minerals: Refer a chart on vitamins and minerals and eat food that can nourish your inside as well as outside the body. Beauty comes from within.
Ex: You may find potassium in potatoes, bananas, milk, raw vegetables etc. which help to regulate your heart beat and body fluids etc. Vitamin C can be had from fruits and vegetables; Vitamin C helps in the development and maintenance of bones, teeth, blood vessels etc. It also fights infection and heals wounds.
 
3. Exfoliate Skin: Mix sugar and olive or almond oil in equal measures; add a few drops of essential oils. Make a mixture of it and rub it onto the skin for a few minutes. You may rinse the dead skin and the residue off with warm water.
4. Glowing Skin: Apply the mix of turmeric powder and gram powder, mixed in yogurt or milk.
5. Face Mask: Half spoon of olive oil and half spoon of honey along with a pinch of turmeric, mixed well, can be applied on the face.
Alternatively, make a paste of sandalwood powder in rose water and apply it on your face.
You may also use papaya pulp mixed with lemon juice as your face mask.
 
6. Facial Toner: White of egg is a damn good facial toner. Whip it up and gather the foam. Apply it on your face and neck. Once dried, wash with warm water. If you can bear the egg smell, it's worth the effort.
Any pack or cream you apply on your face, don't forget to apply on your neck too. Otherwise, your face will look fresh and your neck will look dull.
 
7. To remove tan: Mix cucumber pulp in yogurt, apply it on your face.
 
8. Simple Face Care: Apply milk to your face. Wait for it to dry. Sprinkle water on your face. You may even wash your face with milk on a daily basis. It would do wonders to your face.
 
9. Dark Spots reduction: You may rub cucumber slice on your face thoroughly for some time and wash with warm water.
 
10. Dark Circles: Add lemon and tomato juice and apply it over the dark circle; it helps.
11. Teeth: Apple cedar vinegar is a remover of stains from teeth. You may apply the vinegar directly on the teeth and rinse thoroughly with water.
 
12. Enhance the life of your lipstick on your lips: After applying your lipstick, apply some sugar on your lips and keep it for a minute.
13. Hand Care: You may soak your hands in olive oil for five minutes once or twice a week. It will soften both your hands and the cuticles.
14. Age spots on hands: Rub with half a lemon thoroughly on the hands. Make it a habit. Wash it
after 10 minutes.

This will help in delaying the onset of the age spots on the hands.
 

15. Hair Growth: Massaging scalp thoroughly with coconut oil at least twice a week shall help. Wash with cold water after an hour.
 
16. Natural Hair Conditioner: 1 tablespoon of Yogurt, 1 tablespoon of honey, an egg yolk and a teaspoon of almond oil; mix them nicely and apply it on your hair. Wash after 20 minutes. Use hair pack made out of curd, fenugreek seed paste for lustre.
17. Dark Under arms: A half cut lemon should be thoroughly applied to your underarm in circular motions. Wash after a few minutes and do it
regularly for whitening results.
Application of a teaspoon of lemon juice mixed with a teaspoon of turmeric powder regularly shall also be quite beneficial for dark under arms.
18. Dry and Cracked Heels: Olive oil is a great healer for many issues. At night, before bed time, apply olive oil on the dry and chapped heels and after five minutes wear socks and keep your feet covered all over the night. Do it daily and you will get good results.
You may also use glycerine and rose water mixture on a daily basis for 10 – 15 minutes religiously for 15 – 20 days and you will get good results too.
FAQS
Q. I am so busy managing my home, children, office and outside work that I generally doesn't find time for any of these routines. How can I take care of myself?
"A woman…there's only one thing wrong with her and that is that sometimes she forgets what she is worth"
It seems as though the quote has been written specifically keeping you in mind! Realize your worth. When you can spend hours and hours for the family, work and outside world, can't you spend a few minutes on YOU?
Start spending ten minutes on you on a daily basis and gradually increase the time according to your requirements.
Smita's Advice
As a woman's kitchen is her "queendom" and as she spends a better part of her life in her kitchen taking care of the nourishment of her family, there are multiple options in her kitchen cabinet to help her in maintaining her good looks!
"Believe that YOU are worth more!"
Smita Recommend
Watching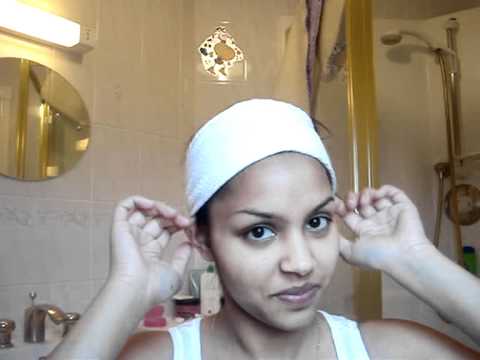 Reading
10 Kitchen Pantry Beauty Ingredients
 Book – Beauty from your kitchen
Like
Thanks!
You've already liked this