Smita M Agarwal ⋅ Event Management ⋅ cleaning is a tedious job, Event Management, How to Host the Perfect Party, How to Organize a Baby Shower, How to Organize a House Party, James L. Hayes, Multitaskers, Party tips checklist, Serve drinks and snacks ⋅ No comments
Effective managers live in the present but concentrate on the future.
- James L. Hayes.
Women are the best of managers; look at how they manage their home, their children, their work, their schedules etc.That's why they are known to be Multitaskers.
They are naturally the best ones to manage the events as well: like party planning, house warming, kitty parties, birth day parties, dinner parties, engagement parties, wedding arrangements, christenings and baby showers etc.
A few general tips to help you on the event management at home.
TIPS
1. Budgeting: Unless certain specified funds are channelized into the preparation and the execution of the events, you wouldn't be able to rationalize on the expenses incurred; you may end up spending more money and may feel the pinch later.
2. To Do List: Create the complete list of the requirements for the party; right from the guest list till the gift list to the guests. This will give you a clear cut idea of the things you should be doing and the time frame required for you to do them.
3. Concentrate on the hero of the event: Concentrate on the Hero of the event, ex: Birthday boy or the Engagement girl or To Be Mom's baby shower. Work around your hero's tastes, like and dislikes, friends, favourite dishes, favourite music and games etc. The party is because of and for the hero; ensure the star's happiness.
4. Plan well in advance: For an event to be successful, the event should be planned well in advance, so that there should be no margin for errors and you may have a lot of time to work on.
5. Delegate some work to your family: Do not try to do everything on your own; delegate some work to you family members and let them handle it successfully, well, under your supervision!
6. Decide on the guest list: Your guest list should set the tone of the party.
Whether only ladies are invited, (Ex: kitty party), whether only youngsters are invited, (Ex: Your son's birthday) etc. decides on the menu, décor, the type of the music and food etc. Create the list to avoid mismatching of the guests and your preparation. Decide also on the invitation, whether you need to send a formal invitation by an envelope, a simple email, or a phone call etc.
7. Car Parking: Remember to do something about the parking problems. Today, even a 18 year old youngster has got a car and you should arrange for the car parking for your guests, failing which before the party starts, unpleasant feelings shall start.
8. Arrange the caterers: You don't want to be busy with cooking while the guests are milling around aimlessly all around. Engage caterers and give them the specific time for serving the meals in advance.
9. Arrange for photographer: If it is a small party, you or a family member can take photos of the memory. It the party is big, it's better for you to arrange a photographer, instruct him on the photographs and leave it at that.
10. Home Beautification: Clean up the home thoroughly a few days before the event, so that your home will look "sweet home" for the guests. Use the essential oils wherever possible to create a relaxed atmosphere in the party.
11. Personal Beautification: A visit to the beauty parlour is a must for you to look dazzling at the party; you are the host and people will look up to you for everything. Let them look up to a beautiful face and a wonderful smile!
12. Set the tables and flowers:Allocate a specific place, the reception or the
entertainment room etc, for the event. Set the tables with cutleries and plates; put a small flower vase in the middle. You may even have a centre piece of flowers in the middle of the room, which will look attractive to the guests.
13. Set the Music: Fifteen minutes before the actual party starts, set the music on and let it flow till the last guest take leave of you.
14. Move around: Move all around your guests, exchanging pleasantries with them all; don't get struck with a small set of people and engage in conversation with them for a long time. A host should move around freely like a butterfly.
15. Serve drinks and snacks: Arrange to serve water, cool drinks and light
snacks before the actual meals, which would set the mood of the people nicely. There is nothing like a light snacks and cool drinks to pep up the party talks!
Arrange to serve coffee and desserts after meals. Coffee in anyway would be welcome to most people, after meals in a party.
16. Say Bye to your guests with grace: Give a small gift to your guests as a token of your thanks, when they take leave.
FAQS
Q. Sometimes, despite my best event management, things happen; drinks get spilled or food arrive lukewarm etc. How to control them?
Spilling of water or cool/hot drinks can not be controlled; you may see children and clumsy adults everywhere. Instruct your hired help to take care of the cleaning part immediately.
On the other hand, lukewarm or cold food is a serious matter. Change your caterers for your next party and instruct the new caterers strictly on the importance of serving the food piping hot.
Q Whenever I have party at home, cleaning after the party becomes very difficult. Any quick tips that can help avoiding the mess during the party?
Yes, after party cleaning is a tedious job. Few things you can keep in mind before the
party begins. Put trash can at easy excess to the guest.  Put extra trash bags in your waste basket bottom, then when u empty it u don't have to make special trip to cabinet to get one to go in there each time u change your trash.
Try keeping food in one single corner. Because that's where it goes dirty fast. Keep free flow of tissue towels, so that guest doesn't spoil sofa covers and curtains. Keep good supply of toilet paper and liquid soap in the bathrooms. Keep few dusters handy for unavoidable accidents.
Smita's Advice
The Event Management needs a lot of preparation and it should be done in a well planned and well executed manner.Don't forget to throw a party after you go through them…
"Incremental planning and sustained execution can make the insurmountable possible"
- Mr. Prophet
Smita Recommend
Watching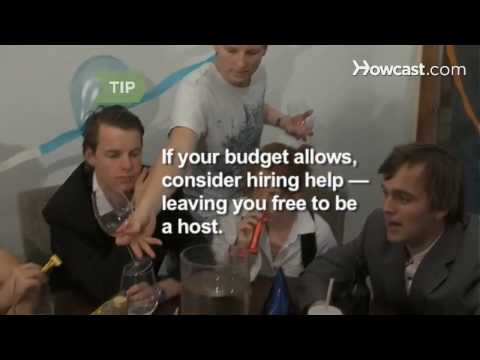 Reading
E-Book – Party tips checklist
Book - How to Host the Perfect Party
Like
Thanks!
You've already liked this