Closet Overhauling
"Good clothes open all doors"
To maintain the good clothes without wrinkles, with creases at the right places, without being torn or
spoiled, they should be kept nicely and properly in the wardrobe.
It is very important to keep the wardrobe neatly arranged so that it will be easy to locate the clothes you want to wear, whether it is for work, a party, for an evening with friends or for that date with a special someone!
TIPS
Empty your wardrobe for good: Before you start your wardrobe arrangement, it makes sense to completely clear out your wardrobe of all your clothes and accessories; look through the details to have an ideas as to what you possess; what could be useful to you and what are the unused clothes that are hanging in there, being pushed around to locate the wearable ones.
Clutter Management: Well, The Formula1 of wardrobe management is to cut the clutter with a hardened heart; you should keep the clothes which are comfortable to your size and in the colours which are in good condition and of course, your favourite ones; the faded clothes, the old clothes, clothes that don't fit you anymore and the clothes which you are not using for a long time should be given away to charity or can even be sold for some pocket money.
Unused Favourite Clothes: Some of your favourite clothes may seize to be of use to you; you may be keeping them due to some memories and attachments, fine; keep them separately and do not hang them along with the clothes which are in current use.
Wardrobe Hardware Accessories: Before you start organizing your closet, shop around for some adhesive hooks, which you may paste on the inner back side wall. It would be useful for hanging out your scarves, soft belts and stuff.
Shop some more: Also shop for some plastic boxes: keep your purses, clutches and bags in one and keep your underclothes, swim suits and other accessories in another. If you keep your bangles, chains, ear-rings and cosmetics etc in your closet, well, get a couple of more plastic boxes and fill them in with your accessories.
These will basically remove your accessories from clustering around the closet, thereby giving you clear and neat space for organizing your clothes, only clothes.
Off season clothes: If your off season clothes are still in your wardrobe hanging along with your current wearable, you should chuck them out to the last rack in the closet. If possible, you should transfer them altogether from your wardrobe to another storage facility at home. This will give you space for organizing your clothes, which are in use at present.
Exclusive, Party and Expensive Clothes: You may not be wearing such clothes on a daily basis. Hence, instead of hanging them along with the daily use clothes, keep them one on one separately in the first rack, either folded or wrapped up in a fine cover. Finally, we have reached somewhere! We just need to segregate our clothes now:
 Always use strong clothes hangers which will carry the burden of hanging your clothes and still be strong enough to being pushed around in your wardrobe.
Seasonal Variations
: Start arranging the clothes with the maximum heights; in winter, it would be top coats, coats, blazers, sweaters; followed by jeans, pants and shirts etc.
In summer, it would be jeans, full pants, half pants, shorts and skirts; followed by full sleeve shirts, half sleeve shirts and T Shirts.Your collection of clothing may vary according to your culture; any other clothes you have accordingly should be arranged relating to the height of the clothes and seasonal variations in your country.
Colour Combination:Colours are our life line. We love the green of the earth, blue of the sky, blue green of the ocean and the peacefulness of the earthen colours. Colours affect us to such an extent that there are colour therapies being practised by people.
Bring in some changes in your colour combinations. You may keep the same colours together for soothing looks, as in blacks are clubbed together with blacks, greys are hanged together with greys etc.
You may keep the colours according to the VIBGYOR pattern too. (Violet, Indigo, Blue, Green, Yellow,Orangeand Red: the rainbow Colours) Arranging your clothes to match up to the rainbow colours will look highly attractive when you open your closet doors.
If you have a huge collection of clothes, you may even refer to the colour tables of the paint companies and try to arrange your clothes accordingly, which will look electrifying, to say the least.
You may even use your aesthetic sense of colour combination to suit your requirement and arrange the clothes accordingly.
As long as your wardrobe is arranged to look appealing and neat, any colour combination shall do.
   10.  Arranging is not enough, maintain: When you spend so much time and energy in arranging your wardrobe and keep the things in their assigned place, it is the most important thing to maintain the closet. As we are generally in a hurry while getting ready for work, we just pull out a scarf, remove a shirt hurriedly or pull down a pant from a hanger, resulting which the arrangement doesn't lost long and you may have to resort to rearranging of your wardrobe.
FAQS
Q I take a lot of pain in arranging the wardrobe and maintaining it for a couple of weeks.
It becomes a mess after that. How to maintain my closet for months together?
By selecting the clothes for the next day on the previous day night; hang them at the right corner of the steel rod for easy accessibility.
By getting ready a bit earlier for work and spending sometime selecting the clothes in a relaxed way, rather than hurrying through the process and thereby creating a mess in the wardrobe.
By taking pride in the neat collection, the beauty of the colours and the combination of your wardrobe so that you wouldn't consciously make a mess of it.
Q How can I put a new spin to my wardrobe?
Start by cleaning your closet and put a one-year rule on your clothing. If you haven't worn it for a year, throw it or give it to someone. Keep some basics as the anchor for your ensembles. Look through magazines to examine latest trends. When you are buying new clothes, don't buy items that look like something you already have or previously had. Buy articles, clothes etc which can be mix and match with things already in your wardrobe.
Smita's Advice
Neatly arranged closet will save your time and energy; you won't be anxious in trying to locate a particular dress out of the messed up lot. Remember to maintain your wardrobe after arranging it. It's easy rather than resorting to rearranging from the scratch.
So, please arrange your wardrobe today!
Smita Recommends
Watching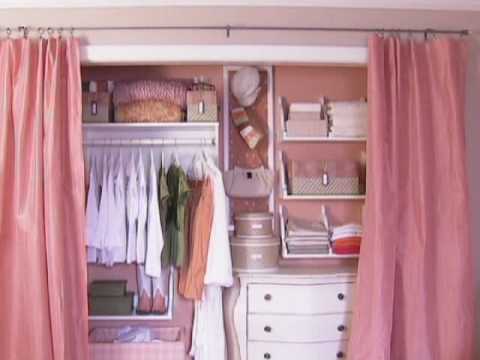 Reading
How to Arrange your Wardrobe & Accessories
E-Book - Control Your Closet Chaos: Ten Tips for Cleaning Your Closets
Book - From Closet Clutter to Closet Control
Book - Cleaning Closets


Like
Thanks!
You've already liked this